About
Soulless malls don't belong in Serangoon Garden, and myVillage will be anything but. Marrying light-hearted nostalgia and modern convenience, it is a place where people can buy daily essentials, pamper themselves, unwind and bond with their loved ones.
Paramount Theatre
In the days before ice-skating and roller-blading was hip, behold roller-skating in Paramount Theatre.
Take a stroll down Serangoon Gardens and you would notice the largely self-sufficient neighbourhood lacks one luxury: A movie theatre. But the estate once had a theatre. In fact, the land that Paramount Theatre stood on is now the shopping mall called myVillage.
Singaporean entrepreneur Chye Lee had opened Paramount Theatre in the 1950s and it was more than an entertainment hub. The theatre was also a significant contributor to Serangoon Garden's culture and history.
Serangoon Gardens Village
The decline of the movie industry in the seventies saw part of Paramount Theatre leased out to other retail businesses. Occupying a large 11,700 square feet, NTUC (National Trades Union Congress) opened its fairprice supermarket here in 1974, just a year after its debut at Toa Payoh. By 1983, the cinema of Paramount could no longer survive and had to shut down. DBS (Development Bank of Singapore) set up a branch in the building in 1991, and subsequently, restaurants, cafés, confectioneries and even tuition centers moved in. The building of the former Paramount Theatre was renamed as Serangoon Gardens Village.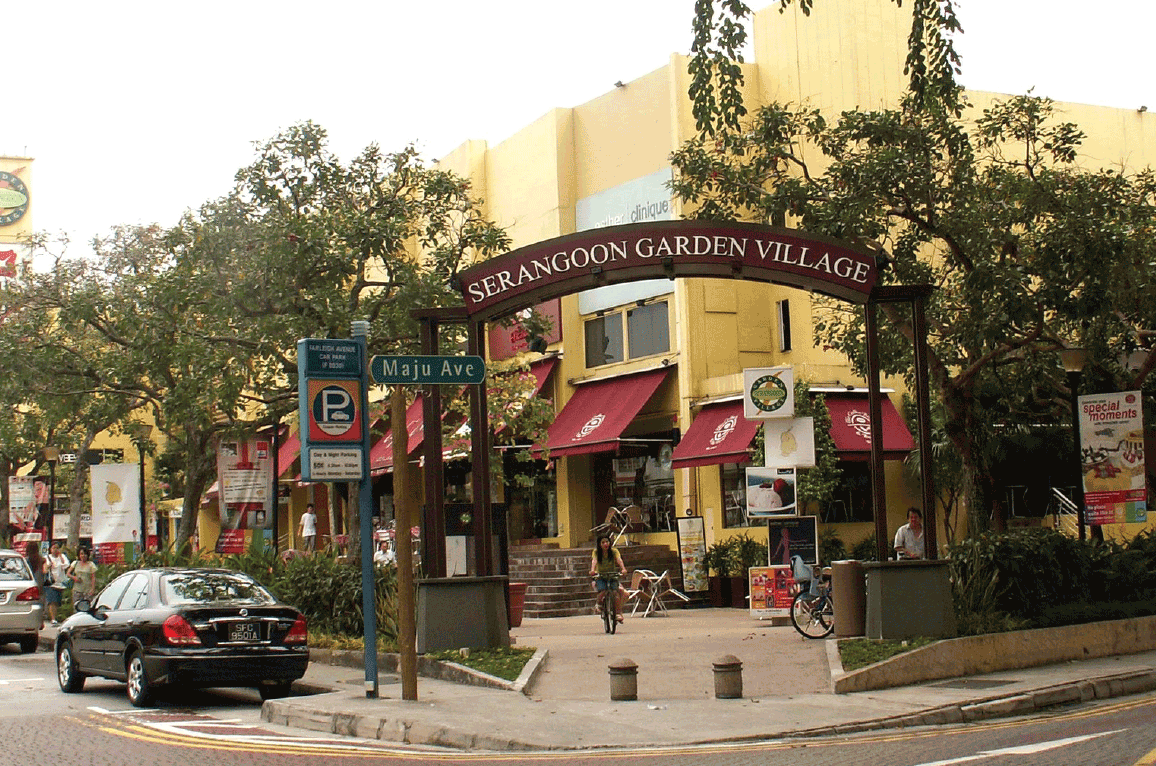 Introducing Hugh the Cat!
Marley and Jules are lifelong residents at myVillage, formerly known as Serangoon Garden Village. These twins have been hanging out at this cosy little enclave at the corner of Maju and Farleigh Avenues all their lives, so they know the place inside out. In fact, they were named after these iconic avenues, because of their family's love for the place.
Marley and Jules have made myVillage their village. They would love to help you make it yours, too!
Hugh the Cat has travelled the world and seen it all! Yearning for home and the food that Marley and Jules makes, he rode a camel through the Gobi Desert before hitching a ship ride home.
Since he's settled back into Serangoon Garden Village, Hugh has started to do what he loves most. Throwing parties, decking out myVillage in stylish touches and coming up with cool happenings. All while chilling out next to the water fountain at the backyard – when no one else is there, of course.
Hugh has assumed the self-invented position of Chief Party Engineer at myVillage and will be seen lazing around myVillage and dreaming up the next big bash.