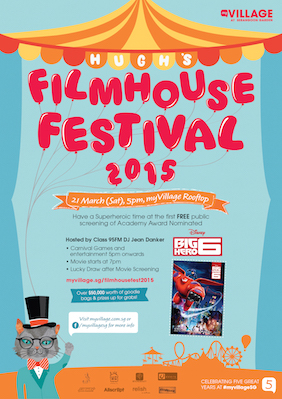 We're gonna have a superheroic time this year with Big Hero 6.
PICK UP YOUR PASSES AT L2 CONCIERGE COUNTER!
Last year, you told me you loved watching "Frozen" on our rooftop. This year, I'm bringing your favourite movie event back, just for you. This time round, I'll be screening Academy Award Winning Disney Movie, Big Hero 6.
The show takes place in the hi-tech metropolis of San Fransokyo and is centered on young robotics whiz Hiro Hamada and and his robot companion Baymax. It's a great, family-friendly movie for everyone.
All this is happening on
• Saturday 21 March, 2015
• Fringe Activities start at 5:30pm
• Movie Screening Begins at 7:30pm
• Lucky Draw immediately after the movie!
• Time for you to come to myVillage, L2 Concierge counter to pick up your filmhouse passes! Each pass entitles you to 1 Goodie bag (with lots of tenant vouchers and premiums) as well as 1 Lucky Draw Chance! Redemption of Movie Passes begins 27th February (Friday)!
ABOUT HUGH'S FILMHOUSE FESTIVAL
Before I left on my odyssey around the world, riding camels in the Sahara and hot air balloons in Turkey, I remember totally enjoying my weekend afternoons catching movies with Marley & Jules. We were all teenagers then, so relaxing and hanging out with them while taking in some celluloid stories was a great memory.
When I came home, I searched for a way to relive this memory with them. Since then, we've had so many memorable screenings. From Local movies to major blockbusters, we've come a long way. I hope that more people can join us for this yearly movie event to make celluloid memories of their own.
Don't miss out on this. I only do this once a year!
See you there,
Hugh