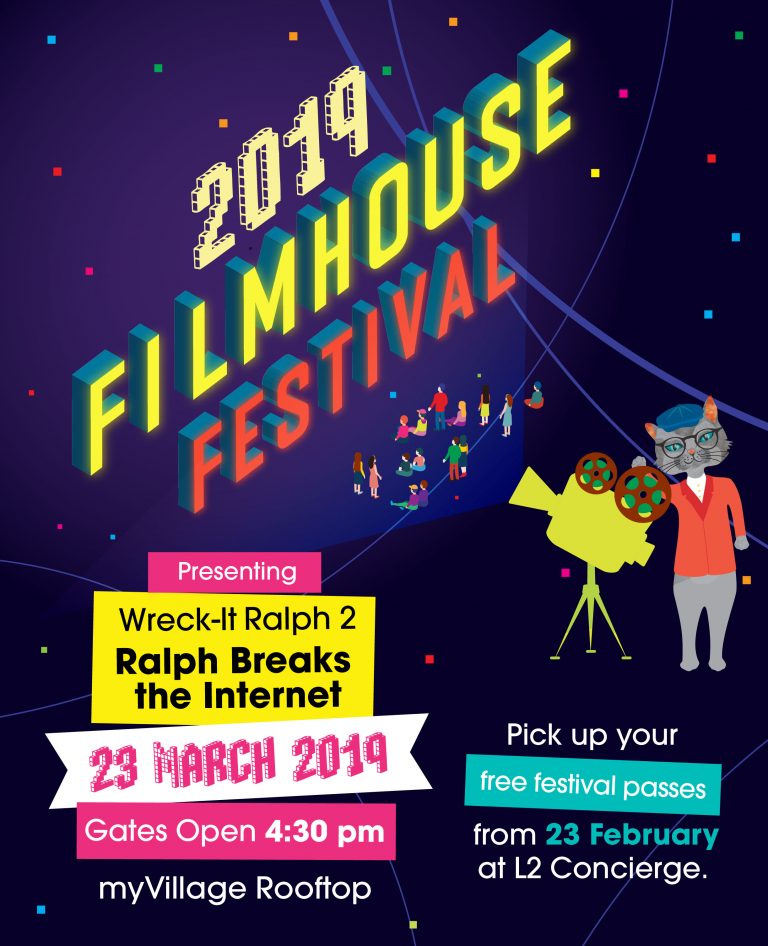 PICK UP YOUR PASSES AT L2 CONCIERGE COUNTER! Redemption begins from 24th Feb onwards!
This year, we're breaking the Internet with for 2019's Filmhouse Festival at myVillage on Saturday, 23rd March!
Redeem free passes for your goodie bag, and a shot at $5,000 worth of lucky draw prizes!
Ready to Party? Here are the details you need:
WHAT: Feature Screening of Wreck-it Ralph 2: Ralph Breaks the Internet
WHEN: Saturday, 23rd March, 2019
WHERE: 1 Maju Avenue, myVillage at Serangoon Gardens
HOW: Come to myVillage, L2 Concierge counter to pick up your Filmhouse Passes, while stocks last!
Redemption begins from 23rd February onwards.
Each pass entitles you to 1 Goodie bag (with lots of tenant vouchers and premiums) as well as 1 Lucky Draw Chance!
Customer Service Counter is open from Tuesday – Sunday, 12noon to 8pm.
ABOUT HUGH'S FILMHOUSE FESTIVAL
Before I left on my odyssey around the world, riding camels in the Sahara and hot air balloons in Turkey, I remember totally enjoying my weekend afternoons catching movies with Marley & Jules. We were all teenagers then, so relaxing and hanging out with them while taking in some celluloid stories was a great memory.
When I came home, I searched for a way to relive this memory with them. Since then, we've had so many memorable screenings. From Local movies to major blockbusters, we've come a long way. I hope that more people can join us for this yearly movie event to make celluloid memories of their own.
Don't miss out on this. I only do this once a year!
Magically Yours,
Hugh