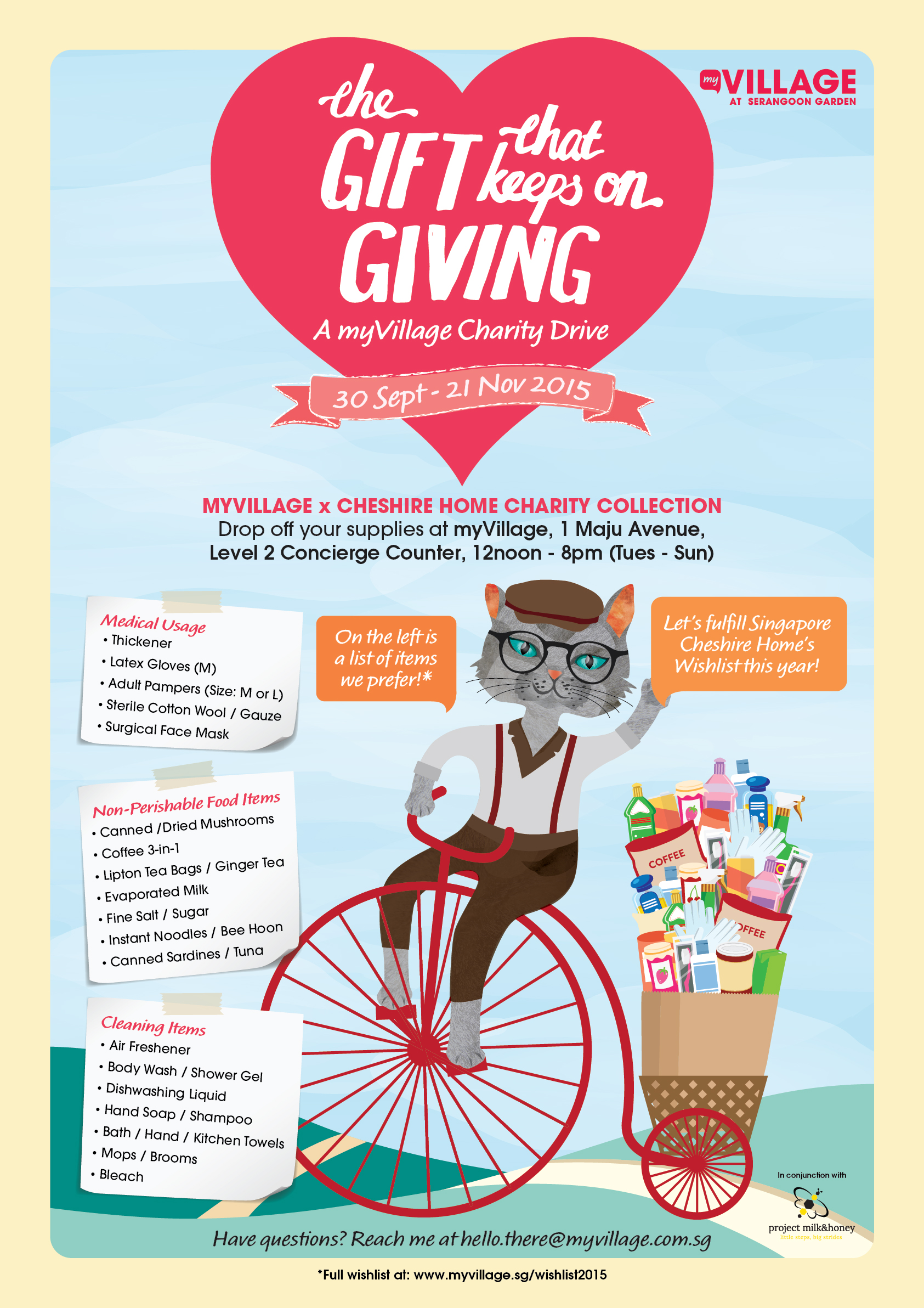 For this year's "Gift that Keeps Giving", we're fulfilling the basic needs of the residents at Singapore Cheshire Home.
Making a List, Checking it Twice
The Singapore Cheshire Home provides care for the seriously disabled having no or limited means and whose families, if any, are unable to provide adequate care. It is a place for the rehabilitation, encouragement, stimulation and happiness of the residents.
This year, we're helping them by fulfilling their wish list of basic items. These items will go a long way in keeping the residents fed, as well as keeping their environments clean.
How to Contribute
myVillage will be the collection point for all wishlist donations. Here are our collection point opening hours:
Date: September 30 – November 21, 2015
Time: Tuesday to Friday, 12noon – 8pm
Location: myVillage, Level 2 Concierge Counter
Here is the wishlist:
Food Items
Button/Dried Mushrooms
Chinese Tea
Coffee 3-in-1
Coffee O / Coffee (2-in-l)
Chrysanthemum Tea / Barley
Chilli & Curry Powder
Evaporated Milk
Fine Salt
Fine Sugar
Ginko Nuts
Instant Noodles / Bee Hoon
Lipton English Tea bags
Luncheon Meat (Pork & Chicken)
Peanut Butter
Preserved Lettuce
Canned Sardines
Sesame Oil
Tea with milk
Canned Tuna
White/Black Pepper
Medical Items
Adult Pampers (Size: Medium or Large) – Day or Night use
Disposable Syringe 50 ml (Brand: Nipro)
Latex Gloves (M)
Surgical Face Mask
Sterile Cotton Wool
Sterile Gauze
Thickener
Cleaning Items
Air Freshener
Bath Towels
Bleaching Liquid
Body Wash / Shower Gel
Dishwashing Liquid
Disinfectant (eg. Dettol/Jeypine)
Floor Brushes
Floor Cleaner
Hand Soap
Hand Towels
Kitchen Towels
Mops / Brooms
Mosquito Spray
Shampoo
Pails
Scouring Sponge
Toilet Cleaner (eg. Harpic)
Toilet Rolls
Tooth brush
Tooth paste
Remember, every bit helps, so please contribute!
Keep Giving,
Hugh