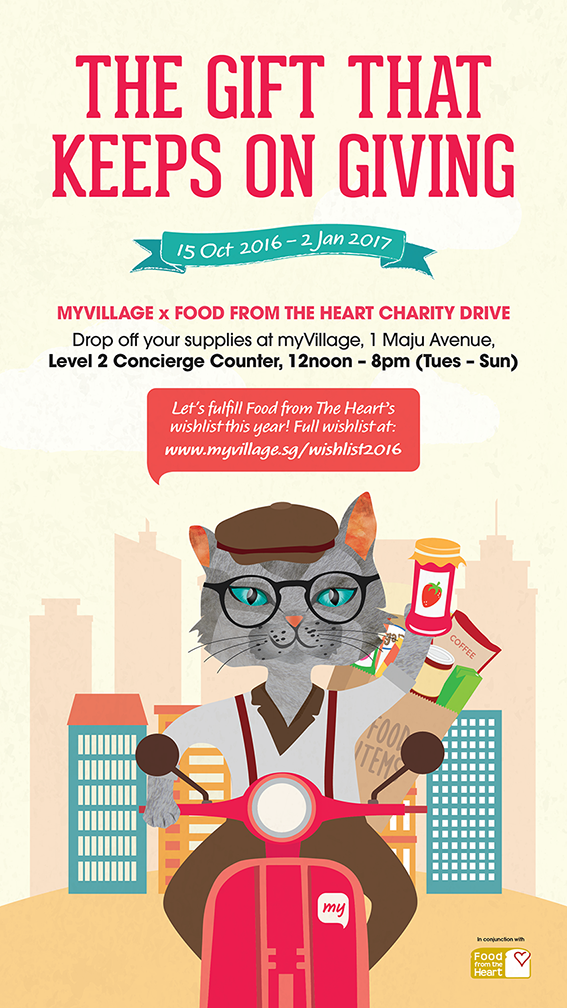 The 2016 Edition of Gift That Keeps Giving will focus on the beneficiaries of Food From The Heart.
A Wishlist
Food From The Heart (FFTH) focuses on alleviating hunger in the lives of the less-fortunate. FFTH works with multiple organisations to support 25,000 people across Singapore with its food distribution programme.
This year, we're helping to collect items that will go a long way to feeding the less fortunate.
How to Contribute
myVillage will be the collection point for all donations. Here are the details:
Date: October 15, 2016 – January 2, 2017
Time: Monday to Sunday, 10am – 10pm
Location: myVillage, Level 2 Concierge Counter
The Food From The Heart Team is looking for unopened, unused, non-perishable items like…
• Staple items: Rice, pasta, instant noodles etc
• Condiments: Soy sauce, salt, sugar, cooking oil etc
• Instant beverages: Milo, coffee, chocolate, cereal etc
• Dry snacks: Cookies, dried fruits and nuts, biscuits
• Canned food: Mushroom, baked beans, sardines, condensed milk etc
As always, I just want to say that every bit helps, so please contribute!
Keep Giving,
Hugh